FREQUENTLY ASKED QUESTIONS FOR WOMEN
COLOR CHART (colors are approximate)


DOES THE COVERAGE ON THE WOMEN'S BOTTOMS CHANGE WITH SIZE OR IS IT JUST THE LENGTH OF THE STRAPS THAT CHANGE?
This varies depending on each particular item. In general items such as g-strings usually have the same amount of coverage regardless of the size (XS through XXL) as these bikinis are only meant to cover a certain area of the body. With items that have "full bottoms" the coverage area on the back of the suit can vary and will in some cases vary with the size. Keep in mind that here at Dubio we specialize in minimal coverage bikinis so even our full coverage bikinis are designed to show off your assets.
WHAT DOES TIE SIDES MEAN?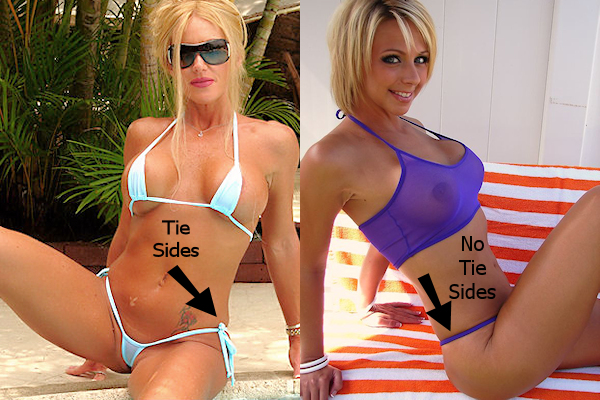 Some of our bikinis allow you the option of selecting tie sides. This means that the strap from the back of the bikini and the strap from the front will tie together on the sides of your hips. No tie sides means there will be 1 continuous strap that goes around your hips from the front of your bikini to the back of the bikini.
ARE THE CARE LABELS EASILY REMOVEABLE?
The care labels are designed to be easily removed by the consumer. They are tear away labels. Grab the label firmly and in a swift motion tear from left to right.
WHAT TYPE OF FABRIC ARE DUBIO BIKINIS MADE OF?
We use first quality fabrics in the manufacture of all products. All swimwear, including the sheer range is generally 20% Lycra and 80% Nylon. We DO NOT line our bikinis therefore some light colors may be see through when wet.
HOW DO I CARE FOR MY GARMENT?
Make sure to wash your bikini after each use. Chlorine and suntan oils can damage the fabric. After use, hand wash your bikini separately in mild soap, rinse well and hang dry out of the sun. Do not use bleach. Do not iron. Do not dry clean. Some colors may bleed when wet so keep colors separate until dry. Please refer to the specific care labels attached to each garment.